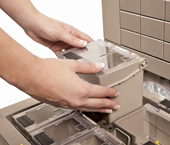 Our contract field service technicians provide remote and on-site contract service for IT systems in hospitals, nursing homes, and other healthcare facilities. Our technicians service hardware and software system components. Our technicians also participate in the installation and upgrades of these systems and secondarily help execute a preventative maintenance program. Our technicians are there as well for pre-installation testing, reconfiguring, and documentation of uncovered technical issues on all applicable systems.
What MedSystems Does
We provide technical support to our customers to resolve issues regarding proprietary software and hardware, and also fully support products within assigned regions.
We respond to, evaluate, and prioritize assigned service orders, to assist with hardware, software, and networking technologies.
We handle problem recognition, isolation, resolution, and follow-up for routine customer problems. We escalate more complex issues to advanced team members or management. We take successful completion of service orders seriously, and will escalate the problem for assistance when necessary—and stay involved in the process until the problem is resolved.
We consult with advanced team members and their liaisons to gain understanding of software and hardware error.
We work with customers to gather information about technical issues and perform diagnostic procedures to determine the source of an error or the cause of the problem.
We log and track all service order activity and maintain documentation of historic records.
We provide pertinent site information to lead technicians to help resolve customer issues at a particular site when needed.
We ensure customer satisfaction by responding to inquiries in a timely manner.
We provide coverage on a 24×7×365 basis.
We maintain an accurate inventory of parts in accordance with established policies and procedures.